Gaelic's Royal National Mod to start in Inverness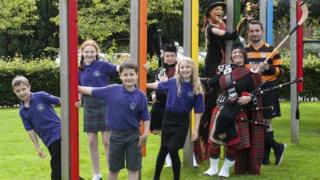 Gaelic's showcase of language, song and arts starts in Inverness later.
The Royal National Mod is taking place in the city for the first time since 1997 and the competitions and events run until 18 October.
The Inverness Mod will feature the biggest programme of fringe events in the festival's 122-year history.
Street theatre, shinty and a concert to mark the 100th anniversary of the start of World War One are among more than 70 events in the programme.
The Mod will start at 18:45 with a torchlight procession from Crown Primary School to Eden Court.
During the festival, more than 3,000 entrants will compete in 200 competitions in Highland dancing, music, song, literature and drama.
The influx of competitors and visitors from all over Scotland and abroad is expected to generate £2.5m for the local economy, according to organisers An Comunn Gaidhealach.
John Morrison, chief executive of An Comunn Gaidhealach, said: "We are delighted to be back in Inverness for a week of competitions and events.
"The city facilities, transport links and venues has meant we are able to host the biggest Mod in our 122-year history.
"We hope Gaels and non-Gaels alike come and enjoy the festivities."
BBC Alba will broadcast daily programmes from the Mod.