'First proof' of UK dolphin hybrids recorded off Lewis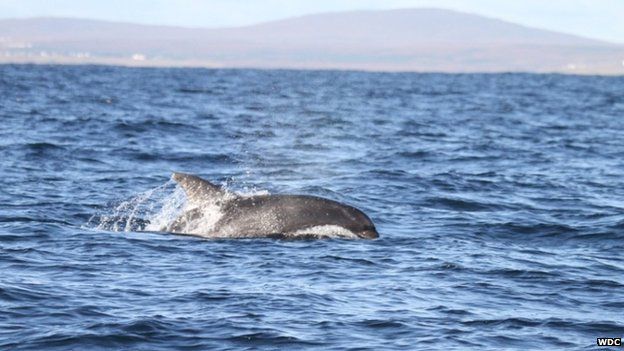 Hybridisation between dolphins has been documented for the first time in UK waters, the Whale and Dolphin Conservation (WDC) has said.
The charity said fieldwork off Lewis between 2010 and 2014 had recorded four dolphins with characteristics of two different species.
WDC said photographs suggested bottlenose dolphins have been mating with resident Risso's dolphins.
It said it was not yet known why the animals were breeding.
WDC added that the occurrence of four atypical dolphins consistent with hybridism in one small geographical region was highly unusual.
There are few bottlenose dolphins on the west coast of Scotland.
About 45 individuals have been recorded off the west coast, and another 10 off the Isle of Barra.
Nicola Hodgins, WDC head of science, said: "One species mating with another may be down to a lack of suitable mates within their own individual species group.
"But further research is needed to understand the implications of this unusual activity."
She added: "The conservation implications of hybridism are unknown, but demonstrate the importance of effective management for these individuals and also for the wider populations found in the area."
Related Internet Links
The BBC is not responsible for the content of external sites.