Katie Morag TV series 'will boost visits to Lewis'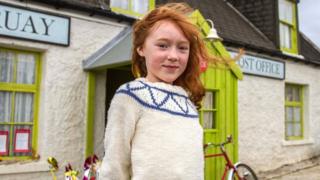 Children's TV show Katie Morag will boost visitor numbers to Lewis the same way Balamory drew tourists to Mull, VisitScotland has said.
Adapted from Mairi Hedderwick's books of the same name, 26 episodes of Katie Morag were shot on Lewis and shown on CBeebies and BBC Alba last year.
A second series has been commissioned for CBeebies and CBBC.
VisitScotland said Balamory increased passenger numbers on ferries to Mull by 15.5% in 2005, 2006 and 2007.
The Cbeebies show, which was filmed in Tobermory on Mull, had its best viewing figures in those three years.
According to VisitScotland research, a fifth of all visitors to Scotland are influenced to visit after seeing it on film or television.
Several of the 14 books in the Katie Morag series have also been translated into Danish, Swedish, Norwegian, Finnish and Japanese.
VisitScotland said other shows featuring the Hebrides supported its prediction of a Katie Morag tourism spin off for Lewis.
They include the factual programmes Hebrides: Islands on the Edge, which was narrated by Star Wars actor Ewan McGregor, and An Island Parish.
Jenni Steele, film and creative industries manager at VisitScotland, said the "wild beauty" of Lewis should attract many of the expected tourists.
She said: "The Outer Hebrides looks magnificent on screen, and those inspired to visit in real life will certainly not be disappointed when they discover the island offers not just stunning landscapes and amazing wildlife, but a rich and vibrant culture, ideal for those seeking a totally unique holiday experience"
Secret isles
While Mull and Lewis might be familiar with audiences, other Scottish islands both real and imagined may not.
Author Cressida Cowell drew inspiration from childhood holidays on a tiny Hebridean island for her How to Train Your Dragon books, adapted for two films by DreamWorks Animation.
Cowell, who was brought up in London, spent spring and summer breaks with her family on an isle dominated by bracken, tall grasses and rock pools. She has kept the name of the island secret.
And in 2004's Hollywood movie Hellboy the star - a muscular red, horned demon - is summoned to Earth during World War Two in a ritual ceremony performed on a fictional Scottish island.
Ian Fordham, chairman of Outer Hebrides Tourism Industry Association, added: "The Katie Morag series has really helped promote the islands of Scotland as a holiday destination for people of all ages.
"Although Katie Morag's island home is fictitious, the Outer Hebrides was delighted to be chosen as a filming location, and we can offer a truly different holiday experience, away from the hectic and fast paced life on the mainland."
The second series of the Katie Morag TV series will be aired next year.
It is the first time Cbeebies and CBBC have co-commissioned a series.
The books tell of the adventures of a feisty, independent, red-haired girl who lives with her family on the fictional Scottish island of Struay.
Produced by Scottish independent company Move on Up and supported by BBC Scotland, the first series was filmed on Lewis in the Western Isles.
Cherry Campbell from Glasgow will return in the lead role as Katie Morag in the new series.