Astronomers' party to celebrate Skye at night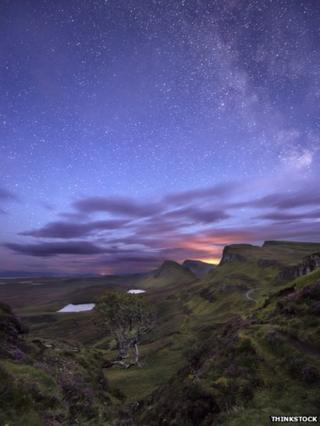 The Isle of Skye is to host an event celebrating its potential to astronomers and amateur stargazers.
The first Dark Skye Star Party will be held on 25 October at the Clan Donald Centre in Armadale.
Skye has some of the darkest night skies in Europe and, on clear evenings, more than 1,000 stars can be seen.
Prof John Brown, Astronomer Royal for Scotland, along with astro-photographer Sue Daly and author Steve Owens are to attend the party.
Along with volunteers, the three guest speakers will give advice on how to spot and identify objects in the night sky.
There will also be a pop-up planetarium and a display explaining how sailors and explorers navigate by the stars.
Two years ago, across the sea from Skye on the mainland, another astronomy-related party was held in Glenelg.
The event marked the twinning of Glenelg and its namesake on Mars.
Nasa's roving robotic laboratory, Curiosity, was at the time headed for a geological feature on Mars called Glenelg.
Back on Earth, residents of Glenelg in the west Highlands held talks by guest speakers, a link up with Nasa's Curiosity team and a ceilidh.