World porridge champion hails his spurtle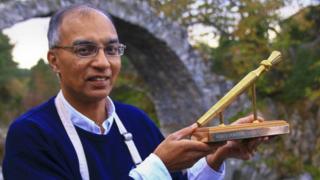 An Aberdeen doctor has hailed his stirring spurtle after being crowned the 21st World Porridge Making Champion in the Highlands.
Dr Izhar Khan, who was competing for the second time, said he had achieved his aim of taking the Golden Spurtle award to the Granite City.
The champion said his own spurtle had been crafted for him by a patient.
The World Champion has to create a traditional porridge with untreated oatmeal, using only water and salt.
Accepting his honour at the event on Saturday, Dr Khan said: "I started eating porridge seven years ago. It is simple, versatile, healthy and very affordable.
"I am traditional by nature and like the ritual of making porridge. It sets you up for the day."
The speciality dish category was a tie between a wild mushroom risotto recipe and a sticky toffee porridge.
Christina Conte, a Scottish-Italian food blogger based in Los Angeles, found success with her sticky toffee recipe.
Ms Conte said: "It tasted good when I made it in America, but I knew it would be even better made with Scottish products."
Of his risotto dish, Chris Young, of Crieff, said: "Risotto is one of my favourite recipes and is so flexible. I just substituted the rice for pinhead oatmeal in the recipe."
To celebrate the competition's 21st anniversary, several of the past champions returned for a special Porridge Masters event.
This was won by Jean Dewar, winner of the Golden Spurtle in 2002 and 2003.
Other competitors included reigning champion John Boa, from Strathglass, a chef and owner of a porridge bar in Copenhagen.