Lewis wind farm backer pulls out over cable delay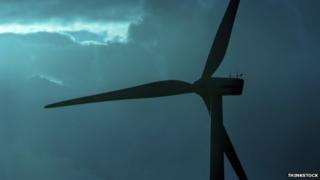 The backer of plans for the largest wind farm on Lewis in the Western Isles has pulled out of the project.
GDF blamed delays in laying a subsea cable needed to carry electricity generated on the isles to the mainland.
The French energy giant was to invest in the planned 39-turbine scheme on Lewis' Eisgein Estate.
GDF, along with other renewable energy developers, had been expected to contribute to the cost of the estimated £780m cable.
The Scottish government said the news of GDF's decision was "disappointing".
Work to lay the cable has been dogged by delays and rising costs.
Scottish Hydro-Electric Transmission Ltd, a division of SSE, is expected to complete work on the interconnector in 2019.
The date had been pushed back from 2015 because of delays in assessing the business case for the cable.
'Key barrier'
The interconnector would export electricity to the mainland for distribution.
It would stretch about 50 miles (80km) from Gravir on Lewis to Ullapool on the north-west coast of mainland Scotland.
There have been discussions about subsea cables linking islands energy projects with the mainland since 2001.
The Scottish government said it was playing a "leading role" in bringing together organisations needed to deliver grid links to the Western Isles, Shetland and Orkney.
A spokesperson said: "These connections are required to release the huge renewables potential of the islands - enough to meet 5% of total GB electricity demand by 2030."
Energy Minister Fergus Ewing chaired the Scottish Islands Renewables Delivery Forum last week to work through the remaining barriers to the island grid connectors.
The spokesperson said: "Although the UK government has committed to providing the support needed to deliver islands generation, the key barrier which is holding back progress is uncertainty around how its policies will be delivered.
"Fergus Ewing has written to the Secretary of State for Energy and Climate Change, Ed Davey MP, calling for this to be addressed urgently."
The UK Department of Energy and Climate Change said it recognised that developing renewables projects on the islands were faced with "unique challenges".
A spokesperson said: "To address high grid costs we announced a higher strike price for the islands as part of our electricity market reform.
"We have also been working closely with the Scottish Islands Delivery Forum and Scottish government to resolve the complex issues involved getting the connecting cable up and running."