'Frustration' at pace of war memorial refurbishment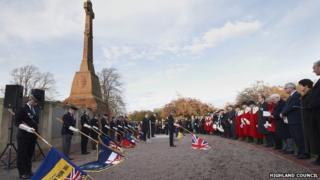 Work to refurbish and repair war memorials in the Highlands is taking too long, it has been claimed.
Highland Council has committed to funding a four-year programme of improvements to 165 monuments.
Carolyn Wilson, a Highland councillor for the Cromarty Firth ward, said the work had hardly started and should have been completed this year.
The council said it understood there was some "frustration" but its aim was to complete the work by 2018.
Ms Wilson said the repairs should have been completed this year, which marks 100 years since the start of World War One.
Joan Ross, of Alness Heritage Centre, also told BBC Scotland that her approaches to Highland Council for funding had been ignored.
She said she may resort to wrapping the memorial in Alness in plastic cling film to protect it.
Issues with memorials include moss and the deterioration of engraved names of fallen soldiers, sailors and airmen.
'Being proactive'
Highland Council said the process for communities to apply for grants to fund improvements had not been clear, but it had "moved quickly" to rectify that.
Councillor Graham Mackenzie, chairman of the committee responsible for approving the works, said the plan was to refurbish all the memorials by 2018, the anniversary of the end of WW1.
He said: "Some people think that is appropriate, others will not."
Mr Mackenzie said in cases where no funding was sought for repairs the memorial would be improved by the local authority.
He said: "We are being proactive in that regard."
An estimated £250,000 will be spent over the four-year programme.
Re-lettering names on memorials is expected to require the most money.
Lists of names on the Highland monuments can run to a handful in some places to covering eight plaques in others.
They include military personnel who died in WW1 and World War Two and, in some cases, in more recent conflicts.