Planes secured for Barra, Tiree, Campeltown and Glasgow link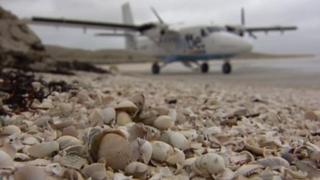 The contract to supply two new planes to serve the lifeline air service linking Barra, Tiree and Campbeltown with Glasgow has been awarded.
Canadian company Viking Air Limited will provide two Twin Otter DHC6-400 aircraft.
The route is officially designated as a public service obligation and would not be commercially viable without support from the Scottish government.
The new planes were expected to have been operating by April last year.
However, the process of purchasing them has taken longer than expected.
The government announced two years ago that it planned to buy two new replacements for the existing Twin Otter aircraft - owned and operated by Loganair and whose contract to serve the lifeline route comes up for renewal next year.
'Best value'
The aircraft must be twin engine and able to land on Barra's beach runway.
Transport Minister Keith Brown said he was "delighted" that a supplier had been secured.
He said: "The tender from Viking Air Limited offered the best value for taxpayers' money, as well as meeting all the requirements in terms of quality and delivery time.
"We expect to take delivery of the new planes next May and for them to be up-and-running on the routes shortly afterwards."
Mr Brown added: "By purchasing our own aircraft, we will also encourage more competition when the contract for operating the PSO routes comes up for renewal."