Scottish SPCA reports rise in abandoned cockerels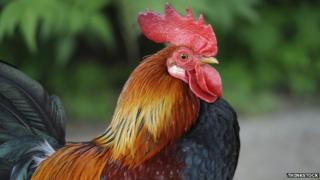 An animal welfare charity has seen an increase in the number of abandoned cockerels.
The Scottish SPCA said it was trying to re-home 32 cockerels rescued from various locations across Scotland, including Alloa and Dumbarton.
One of the most recent cases involved four Transylvanian cockerels dumped in woods in Biggar.
The SSPCA said one reason behind the rise was people mistaking cockerel chicks for those of egg-laying hens.
It said its busiest rescue centres were in Edinburgh, Dumbarton and Lanarkshire.
Superintendent Sharon Comrie said the majority of the cockerels in its care were dumped by their owners.
She said: "People buy chicks thinking they are hens and, unfortunately, when they realise they are cockerels they often dump them as they can be noisy and don't lay eggs.
"Cockerels are very territorial, so ideally we are looking to re-home them singly or in small groups to a home with a number of hens for company.
"The cockerels will also need access to a secure run or a fully enclosed garden."