Nato preparing for Joint Warrior in Scotland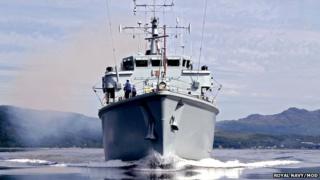 Nato forces will take part in a major joint exercise in Scotland for two weeks from 7 October.
Joint Warrior is one of Europe's largest military events and is held twice a year, and involves training in the north of Scotland.
Countries taking part will include the US, Netherlands, France, Denmark, Norway, Spain, Lithuania and Poland.
Fighter jets from Sweden, Belgium and Germany will fly from RAF Lossiemouth in Moray.
HM Faslane on the Clyde will also have a role in the exercise.
The Royal Navy said the exercise will develop from a mock period of military and political tensions into simulated war fighting and potentially state-on-state hostilities.
The navy's mine hunters HMS Blyth, HMS Pembroke, HMS Brocklesby and HMS Middleton will be involved.