Evidence sought on police carrying guns in Scotland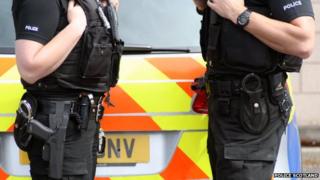 Public views have been sought on Police Scotland's decision to allow some of its officers to carry handguns while attending routine incidents.
In questions on a form, the Scottish Police Authority has asked if the move has impacted on feelings of safety and security and trust in the police.
The SPA is gathering evidence as part of a review of the force's policy.
HM Inspectorate of Constabulary in Scotland is also scrutinising the use of firearms officers.
The routine incidents involved would not normally require armed police, the SPA has said.
The police authority and HMICS announced last month that they would, in parallel, examine different areas of the policy.
Strathclyde Police, Tayside Police and Northern Constabulary allowed specialist officers to carry guns routinely before the creation of the new single force.
Police Scotland adopted the approach across the country following its launch in April last year.
In May this year, independent MSP and former Northern Constabulary officer John Finnie raised concerns about the move.
Highland councillors have also raised concerns about the deployment of officers visibly carrying handguns in routine incidents in a region with low levels of violent crime.
Police Scotland has said that it has 275 firearms officers - 1.6% of the force's personnel - and they are deployed on a shift pattern basis.
These specialist officers carry a Taser stun gun and a holstered handgun.
Police Scotland and the Scottish government said the deployment of firearms officers offered better protection to the public.
Last month, Deputy Chief Constable Iain Livingstone said the force welcomed the reviews.