Inverness West Link: Tesco road payment row continues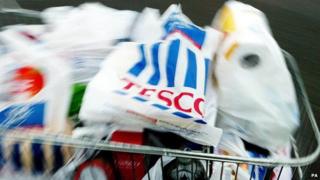 Highland Council and Tesco remain at loggerheads in a long running dispute over a £340,000 "planning gain" payment.
The supermarket chain argues that the money was to be a contribution to the building of the city's new West Link, if it was completed by 2011.
The local authority has still to begin construction of the road.
But Highland Council has now said that the payment was tied to the cost of stretches of an existing city road.
The row is linked to Tesco's store at Ness-side, its newest and fourth supermarket in Inverness.
The chain bought the land for the store in 2001 and signed what is known as a section 75 planning agreement with Highland Council.
This included a planning gain payment.
Tesco said it had offered to contribute £340,000 towards the cost of constructing the West Link, which will be built close to Ness-side, if the road was completed as planned by October 2011.
Work on the road is not expected to start until next year.
Highland Council, however, argues that Tesco does have to pay up because the planning deal referred to the building of already constructed sections of the Inverness Southern Distributor road.
Last year, Tesco lawyers said that the company had suffered financially because of delays in building the West Link.
They said the value of the Ness-side store had fallen "very substantially" because of the delays.
The West Link is needed to ease travel across Inverness and free up congested city centre streets, according to the local authority.
It could cost up to £34m to construct.
Highland Council said: "As there are ongoing discussions between the council and Tesco, regarding the agreement which relates to the Southern Distributor Road, we are unable to comment further at this time."
Tesco said it was awaiting a response from the local authority to its last letter on the matter.