Harris Tweed Authority and US firm settle chairs dispute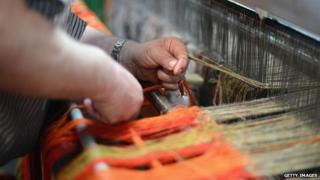 The Harris Tweed Authority has settled a dispute with a US retailer over its labelling of a design of chairs.
Euromarket Designs Inc offered for sale a Harris Tweed Chair and Harris Herringbone Chair on its Crate and Barrel website.
The products were not made from Harris Tweed, a fabric hand-woven on the Western Isles and protected by UK law.
The HTA said it has secured a "monetary settlement" and assurances the items would not be marketed as Harris Tweed.
Court proceedings were raised to protect the Harris Tweed brand.
Following negotiations, Crate and Barrel said its improper use of the name Harris Tweed was not deliberate and no chairs from the Harris Tweed Collection had been sold in the UK.
Both products were available for purchase for a number of weeks on Crate and Barrel's website, its stores and were advertised for sale in its catalogues.
The selling and promotion of the chairs in the UK breached the Harris Tweed Act 1993 and other rights held by the HTA on behalf of the Harris Tweed industry.