Former police officer jailed for raping teen in Thurso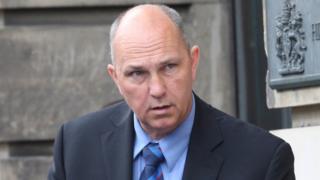 A former police officer and rugby coach who raped a teenage girl has been jailed for seven years.
Neil Livett, 53, from Lesmahagow in South Lanarkshire, took photographs and videos during the attack at a house in Thurso in Caithness.
He denied raping the girl between December 2011 and April 2012, but was convicted by a jury last month.
Livett was also found guilty of taking indecent photographs and video recordings of the girl.
During the trial at the High Court in Edinburgh, the woman, now aged 21, told the court: "I have been violated not just physically, but emotionally and mentally."
Back in court for sentencing, Livett was told by judge Lord Pentland that he had been convicted of two serious sexual offences.
The judge said: "The evidence showed that the complainer was highly vulnerable with a troubled and disturbed background.
"The first of these offences involved your taking a significant number of perverted and indecent photographs and video recordings of her.
"The recording of these images amounted to a gross invasion of the complainer's dignity and privacy.
"By their verdict the jury accepted that you did these things for the purpose of your own sexual gratification."
Lord Pentland went on: "The second offence was one of rape of the complainer.
"This offence was seriously aggravated by the fact that you made a video recording of the act of rape. You told the complainer that this was so that you could watch it later."
Livett has been placed on the sex offenders register for the rest of his life.
The judge said details would be sent to the Scottish ministers for Livett's name to be added to a list of those deemed to be unsuitable to work with children and vulnerable groups.