Petrel slump: Effort to halt birds' decline on St Kilda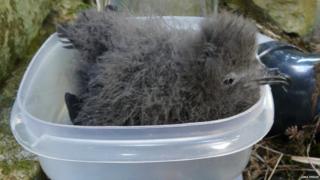 Conservationists have been weighing the chicks of one of the UK's rarest seabirds as part of an effort to better understand the species.
Leach's storm petrels are found at only a handful of sites.
On St Kilda, the National Trust for Scotland has been trying to monitor the survival rates of chicks and adult birds.
The remote archipelago has 94% of the UK's breeding population of Leach's storm petrels.
On one of St Kilda's tiny islands, the number of birds fell by half between 1999 and 2003.
Gina Prior, St Kilda's seabird and marine ranger, said: "Given what seems to be an increasingly precarious situation for this rarest of seabirds, it was vital we found out more about their breeding patterns and the possible causes of population decline.
"This is no easy task as Leach's storm petrels are quite difficult to observe because they breed in hollows and cracks in the rocks and only return to their burrow after dark."