Water voles return to RSPB reserve in Badenoch and Strathspey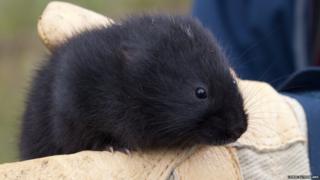 Water voles have been recorded in a part of the Highlands for the first time in 20 years.
The population has been spotted at RSPB Scotland's Insh Marshes reserve in Badenoch and Strathspey.
The charity said it believed efforts to eradicate non-native American mink had helped to encourage the return of the rare animals.
Water vole numbers have dropped by 90% in the UK over the past 40 years, with predation a key factor for the decline.
The mammals were wiped out along the main stem of the River Spey, with only a few holding on in isolated pockets in the hills and headwaters.
Since 2011, the Scottish Mink Initiative has eradicated mink from large parts of northern Scotland, including the Cairngorms National Park and Insh Marshes.
RSPB Scotland said this had allowed water voles to re-establish themselves in those areas.
In the first couple of years of the initiative, about 30 mink were caught at Insh Marshes, near Kingussie.
The new population of water voles was discovered in July, during a survey at the site by RSPB officer James Silvey.
He said: "Water voles are extremely important mammals because they're a really good sign of a healthy wetland environment and, rather unfortunately for them, they're also an important link in the food chain.
"It's great to see them returning to Strathspey and we are hopeful this population will go from strength to strength."