Police 'best placed' to tackle wildlife crime, says society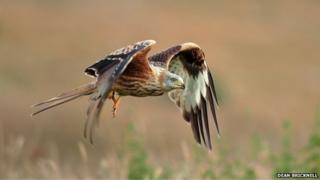 An increased police presence in rural areas would act as a deterrent to wildlife crime, the Law Society of Scotland has said.
The organisation has responded to Scottish government consultation on extra powers for Scottish SPCA officers.
The society said in the absence of police patrols, it supported the idea of giving SSPCA staff more powers.
Police Scotland said it was committed to dealing with wildlife crime.
The Law Society said recent cases involving the poisoning of birds of prey highlighted a need for an increased police presence in some areas.
Sixteen red kites and six buzzards were found dead in the Highlands earlier this year.
Tests revealed that most of the birds, which were found on land in Ross-shire, had eaten an illegal poison. Police Scotland has been investigating the deaths.
'Search vehicles'
Jim Drysdale, a member of the Law Society's rural affairs committee said: "Wildlife crime, such as the poisoning of birds of prey, is a serious issue and causes substantial public concern, and it is imperative that such incidents are fully investigated and prosecuted when they occur.
"We believe police officers are best placed to deal with such crime, and increasing the presence of uniformed police officers in remote areas where these crimes occur will assure the public that combating wildlife crime is being taken seriously."
He added: "However, in the absence of increased police resources we support the proposal for SSPCA officers to be granted the proposed powers, which include the ability to search vehicles suspected of carrying illegal carcasses, protected live animals and birds, and illegal traps or poisons."
Mr Drysdale said the officers would require specialist training and should be accompanied by a witness when exercising their new powers.
But he said the powers should be reviewed two to five years' later to ensure they were being "appropriately enforced".
Detective Chief Superintendent Robbie Allan said: "Police Scotland is committed to dealing with and preventing wildlife crime throughout Scotland.
"We are actively engaged in the process around proposed extra powers for the SSPCA and as this is an ongoing consultation it would be inappropriate for us to comment more at this time."