Loo role: The work to record Scotland's historic lavs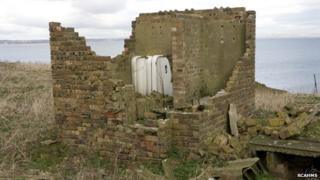 Scotland's historic toilets are being recorded by the Royal Commission on the Ancient and Historical Monuments of Scotland (RCAHMS).
Staff documenting the old age loos have also been tweeting images of some of them with the hash tag #anothercludgie.
Cludgie is a Scottish word for the toilet.
Some of the sites are in ruin and barely recognisable as lavatories, while others continue to be in perfect working order though decades old.
They include Victorian public conveniences on city streets as well as cloakrooms, washrooms and bathrooms in historic buildings across Scotland, such as the Glasgow School of Art.
RCAHMS has been doing the work as part of its remit to record architecture, threatened buildings, listed buildings, and industrial sites.
Dozens of images have been taken and include photographs of the public toilets in Aberdeen's Union Terrace, a bathroom at Skibo Castle in the Highlands and the Minerva Street Public Conveniences in Glasgow.
A bathroom of the Crook Inn in Tweedsmuir in the Scottish Borders has also been documented.
The Borders are also home to the last surviving outdoor gents' urinal of its kind in Scotland, and possibly the UK, while Dumfries and Galloway and Inchkeith in Fife has old ruined toilet blocks.