Earl's Dornoch golf club expenses from 1616 found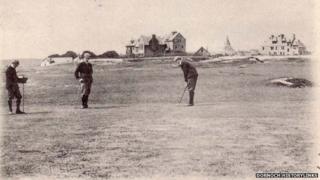 Expenses covering the cost of a young aristocrat's golf clubs in 1616 have provided the earliest evidence so far of the sport's popularity in Dornoch.
John, the 13th Earl of Sutherland, was sent to the town in Sutherland to be educated.
His uncle Sir Robert Gordon sponsored his education and provided him with funds for clubs and balls, as well as bows and arrows.
The reference was uncovered by researcher Wade Cormack.
Mr Cormack is a PhD student at the University of the Highlands and Islands.
His research of sports played in and around Dornoch ties in with the local golf club's 400 Years of Golf in Dornoch project, launched last year by professional golfer Paul Lawrie.
Mr Cormack has also found a letter that Sir Robert wrote in 1620 to the earl, who was then 11 years old.
It includes advice on how to become a successful leader, a calculated but kind master, a learned man and someone respected throughout the land.
The letter also has guidance from Sir Robert on how he should go about selecting a wife.
Mr Cormack said the documents demonstrated how the educational value of sport was valued.
"Some of the brightest minds of the elite were keen sportsmen," he said.
"Even if they were not keen themselves, they supported physical education as part of a balanced educational experience."
Golf was played in the local area long before Royal Dornoch Golf Club was established.
However, the early golfers were frowned on by their leaders who wanted them to concentrate on more war-like activities, such as becoming good marksmen.
The club and course were established in 1877 and in 1886 champion golfer and legendary course designer Old Tom Morris was invited to come up with a fully planned golf course.
Before World War One, the course was popular with high-profile male and female golfers, including Ernest Holderness and Joyce Wethered.
An aerodrome was built on part of the ladies' 18-hole course during World War Two, but the club was later able to construct new holes.
In recent years, Prince Andrew and golfers Greg Norman and Ernie Els have been made honorary members of the club.