Queensferry Crossing savings to aid A9 work in Highlands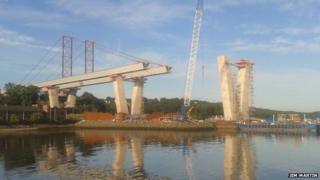 Anticipated savings from the project to build the new bridge over the Firth of Forth will be used to bring forward part of the A9 upgrade by six months.
The Queensferry Crossing is expected to cost up to £1.45bn, while in 2011 the figure was up to £1.6bn.
Transport Scotland said the savings would be used to speed up the start of improvements to the A9 at Kincraig to Dalraddy.
The road between Inverness and Perth is to be made dual carriageway by 2025.
Kincraig to Dalraddy will be the first of 12 schemes in the £3bn project to upgrade the A9 to be brought forward.
The contract to build the five-mile (8 km) stretch of dual carriageway is worth about £50m.
Transport Minister Keith Brown said there was potential for more of the overall project to be accelerated.
He said: "As the Queensferry Crossing rises out of the Forth estuary, we are anticipating more savings being realised next year from the project's contingencies, allowing us to unlock investment for the A9 dualling scheme now.
"With that investment identified and the progress in making statutory orders for the five mile long Kincraig-Dalraddy scheme, I have given the go-ahead to get procurement underway."