Tributes to Charlotte Hornby after 'unexplained' death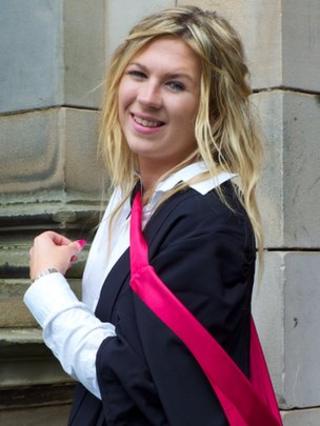 The family of a woman whose body was found at Inverness' Ness Islands on Sunday have paid tribute to her.
Charlotte Hornby's death has been treated as "unexplained". Police said it was possible it had been the result of a tragic accident.
The 24-year-old was originally from Macclesfield in Cheshire and moved to Fortrose in the Highlands with her family in 1992.
Her family said she was intelligent, outgoing and had a passion for sports.
Ms Hornby's body was discovered in a burn at the Ness Islands near Island Bank Road at about 17:20 on Sunday.
She was understood to have been walking home after a night out.
Her parents Patricia and Harry Hornby and her brother Edward paid tribute to her in a statement released by Police Scotland.
They said: "Her sporting interests ranged through hillwalking, cycling, skiing, climbing, running, kayaking, horse-riding and latterly squash.
"Her thirst for adventure knew few bounds extending to the James Bond Black Ski Run in Switzerland.
"Her love of music extended to playing both the piano and guitar whilst attending popular music concerts and enjoying music wherever she was.
"She had a wide range of friends from Fortrose, St Andrews and Aberdeen where she lived whilst employed by SSE as an environmental advisor.
"Wherever she went her humour, sense of adventure and kindly nature built friendships that she actively maintained."
After moving to the Highlands, Ms Hornby went to Avoch Primary School and Fortrose Academy.
She later graduated from St Andrews University in Fife with an MA in geography in 2011.
Ms Hornby was in the process of returning to the Highlands and moving into a flat with her brother.
The statement added: "Her family can only be consoled in the knowledge she passed suddenly having achieved so much having left a smile on all our faces."
Police have appealed for sightings of Ms Hornby in the early hours of Sunday morning.
Acting Ch Insp Mark Czerniakiewicz said: "Charlotte was last seen at approximately 03:25, when she parted company with a friend and was seen heading towards Cavell Gardens, near the war memorial.
"She was wearing a black leather jacket, black dress, black tights and carrying a tan coloured handbag."