Inquiry into Leicestershire cyclist's death begins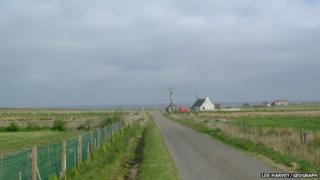 A driver thought she was the only person involved in a crash until police told her a cyclist had been killed and another injured, an inquiry has heard.
Elaine Dunne, 30, from Glenfield, died and her husband Christopher was seriously injured when a car allegedly drove on the wrong side of the road.
Two hours after the crash in Caithness, police told driver Alice Ross, 96, of Lybster, of the others involved.
The fatal accident inquiry (FAI) is being held at Wick Sheriff Court.
The Dunnes were on a week-long holiday in Scotland to celebrate their first wedding anniversary.
They had been standing with their bikes when they were knocked over on the A99 Wick to John O'Groats road at Auckengill, near Keiss.
Ms Ross believed at first there was no-one else involved in the accident, the inquiry heard.
Mr Dunne sat listening in the public benches as Ms Ross' cousin Alexandrina Steven, 71, described the day of the accident, 21 September 2011.
She said that Ms Ross, a retired shopkeeper, had arranged to visit her.
However, Mrs Steven said that Ms Ross rang her on her mobile following the accident.
Mrs Steven said: "She told me there had been an accident but she was okay.
"I drove straight to the scene and got into the passenger seat of Alice's car. She was still in the driving seat and told me there was no-one else involved.
"She was alright and unhurt. Alice said she had swerved to avoid a black cat."
'No response'
Mrs Steven , a retired teacher, said that she went with her cousin to the accident and emergency department of Caithness General Hospital in Wick, where police broke the news that the accident had been a fatal one.
The inquiry heard later that Ms Ross was on medication for high blood pressure.
Mrs Steven was asked about an occasion at her home a month before the accident. Mrs Steven said her cousin had seemed to be "not with us" for between a few seconds and about a minute.
She said: "Alice was staring straight ahead and didn't seem to know what was going on. I spoke to her but got no response.
"Friends and I helped her outside and, once she got fresh air she was fine. She didn't seem to appreciate that something had gone wrong."
Mrs Steven blamed having a large meal on a hot day for what her cousin had experienced. The court was told that there had been a similar event at a family wedding, previously.
The inquiry was told that Ms Ross never drove following the crash and had surrendered her driving licence.
A High Court case in Inverness against her was dropped in August last year because of the Crown's late assessment of medical reports lodged by her defence.