VisitScotland tie in with new Billy Connolly film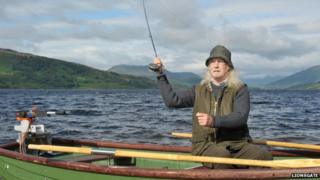 VisitScotland has teamed up with the makers of a new film starring Billy Connolly and David Tennant to help promote Scottish tourism.
Scenes for What We Did On Our Holidays were shot in Gairloch in Wester Ross and Loch Katrine, near Callander.
Connolly and Tennant play a father and son in the comedy which also stars The World's End actress Rosamund Pike.
VisitScotland and studio, Lionsgate UK, have agreed to work jointly on promoting the film and its locations.
Mike Cantlay, chairman of VisitScotland, said the film had captured the "unique peace, tranquility and breathtaking landscapes of Scotland".
He said: "Our partnership with Lionsgate UK gives us an excellent platform to make the most of this excellent opportunity."
Popcorn economics
Films are key to the economies of Scotland and other countries.
The movie versions of the Lord of the Rings' trilogy injected about $200m (£138m) into the economy of the New Zealand capital city of Wellington, where much of it was filmed.
The city and country has since been benefitting financially from the making of the Hobbit trilogy.
A Norwegian tourism campaign tied into Disney's animation Frozen and inspired by one in Scotland linked to the film Brave has been gaining interest in the US.
VisitScotland spent £7m on a joint marketing drive with Disney for the 2012 movie, which was set in Scotland.
VisitNorway has a similar campaign that ties in with Frozen, an adventure about two sisters called Elsa and Anna.
The airline Norwegian Air Shuttle reported in June a 52% increase in passengers on routes from the US to Oslo in March 2014 compared to March last year.
Mr Cantlay added: "Scotland never fails to look stunning on the big screen, and I'm sure this feel-good film will encourage more cinema goers to come and explore this wonderful country for themselves."
Ross Cunningham, head of marketing at Lionsgate UK, said: "The film is a truly fantastic, comedic heart-warmer, and really shows Scotland at its stunning best, with beautifully lavish landscapes that are breathtakingly unique to Scotland."
VisitScotland said its research has shown that a fifth of visitors to Scotland were inspired to come after seeing the country on film or on television.
What We Did On Our Holiday will be released UK-wide on 26 September.
It was written and directed by Andy Hamilton and Guy Jenkin, who worked on BBC comedy Outnumbered.
Tennant's character Doug travels to the Highlands with his wife Abi, played by Pike, and their three children to attend the birthday party of Doug's father, Gordie.