Inverness Castle's tourism potential to be explored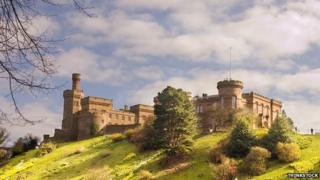 A new working group will look at how Inverness Castle could be turned into a tourism attraction in the future.
Built in the 1800s on the site of previous historic castles, the building was first used as a county hall and later a jail.
In more recent times it has served as Inverness Sheriff Court.
The Scottish government and Highland Council have set up the working group and it will work with other public bodies, such as the court service.
Tourism Minister Fergus Ewing said for years people have been calling for the castle to be made into a tourist attraction.
Earlier this year, the Inverness Courier newspaper started its Open the Castle campaign to support such calls.
Mr Ewing said: "I've heard many suggestions and underlying them all is the message that the castle is the jewel in the city's crown.
"It's a building which has the potential to be a centrepiece for visitors to learn more about the city and showcase the Highlands as a tourist destination."
He added: "The current occupants of the castle are the sheriff court and justice of the peace court.
"Clearly any plans regarding possible relocation of these services will be considered thoroughly by the Scottish Court Service, Scottish government and Highland Council."
Stories of Inverness' old castle
The sandstone Inverness Castle was built in 1836 to plans drawn by architect William Burn.
It was constructed on a mound overlooking the city and the River Ness. In 1848, a building known as the North Block was added and served as a prison.
But a castle had occupied the site from possibly as far back as the 11th Century.
Over the centuries, the fortification fell under the control of the forces of Edward I, Robert the Bruce and James I, II and IV.
In 1562, it was attacked and damaged by soldiers loyal to Mary, Queen of Scots, before it was almost destroyed by Royalist troops in the 1600s.
Bonnie Prince Charlie's forces blew the castle up in 1746 to prevent it from falling into the hands of government troops.
It was said that a French sergeant, who had brought his poodle with him to Scotland, set off the explosives.
The soldier was caught in the blast, and his body was blown across to the opposite side of the River Ness. His dog survived.
Council leader Drew Hendry said: "For too long, visitors to the city have been able to look at the castle but haven't been able to get access.
"That's not good enough for this city going forward.
"For people who come to Scotland one of the top 'must-see' attractions to visit are castles and Inverness needs to display its Castle in its best light and that's not as a working court house."