Statue in honour of golden retriever unveiled in Tomich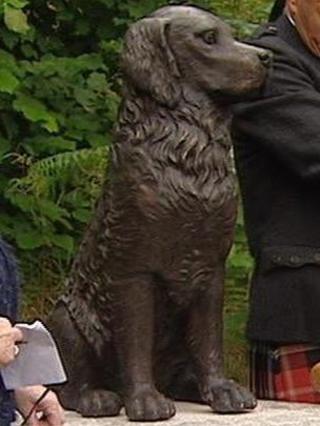 A life-size bronze statue has been unveiled in the Highlands to honour one of the country's most popular dogs, the golden retriever.
The breed was created at Tomich near Glen Affric in the 1800s by landowner Dudley Marjoribanks, also known as Lord Tweedmouth.
He crossed a wavy-coated retriever called Nous with Belle, a Tweed water spaniel, on his Guisachan Estate.
A group called Friends of Guisachan has had the statue made and erected.
The first golden retrievers were said to have only been given to family and close friends of Lord Tweedmouth.
It is the second statue in honour of a breed of dog to be installed in the Highlands this year.
Last month, a life-size bronze statue was unveiled on Skye by Princess Anne in honour of the island's famous terriers.
Installed in the grounds of the Museum of the Isles at Armadale Castle, it shows the prick-ear and drop-ear varieties of the Skye Terrier.
The terrier has been described as Britain's most endangered native breed of dog.
Numbers of the breed have been in decline in recent years.