Aviemore Para athlete David Smith requires more surgery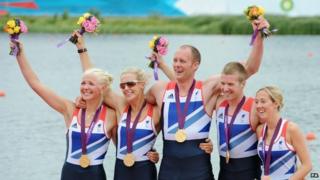 Scottish Para athlete David Smith has revealed that he must have surgery on a spinal cord tumour that threatens to leave him paralysed from the neck down.
Smith, from Aviemore, won a gold medal in rowing at the 2012 London Paralympics and was an ambassador for Glasgow's Commonwealth Games.
He received news of the tumour during Glasgow 2014.
Smith, who has also competed at top levels in karate, skiing and shinty, had a tumour removed in 2010.
The treatment he had four years ago involved the removal of three vertebrae and rebuilding his neck with metal cages and screws.
Surgeons have told Smith that the tumour has returned and will cause paralysis if not operated on.
Smith, who was born with a clubfoot and came close to having his right foot amputated at birth, won a gold medal at London 2012 in the mixed coxed four.
A post box was painted gold in Aviemore in his honour.
The athlete is now part of Great Britain's cycling development programme and hopes to compete at Rio 2016 and Tokyo 2020.
He said: "It is now time to prepare my body and mind for the fight that is around the corner and like any fighter preparing is mostly mental.
"In life we are defined by what we do at our lowest and in dark places we find ourselves. It is in these places that the only thing that can defeat you is you."