New online map of Scotland shows Outlander novel locations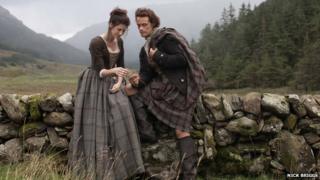 Tourism body VisitScotland has created an interactive map showing locations featured in the Outlander novels.
It will be available online from midnight to coincide with the US network premiere of the TV series based on the books.
Locations include the Royal Mile in Edinburgh, Loch Ness and Doune Castle..
Described as Scotland's answer to Game of Thrones, Outlander follows the story of Claire Randell, a nurse from 1946 who is swept back in time to 1743.
The TV series is based on a series of novels from American author Diana Gabaldon.
Edinburgh actor Chris Capaldi, who appears in the show, has helped to promote the new map.
As well as the novels' locations, the guide provides information on nearby historic sites.
Mike Cantlay, chairman of VisitScotland, said it was hoped it would appeal to fans of the books and the new series.