Inverness' Ness Soaps back in business under a new name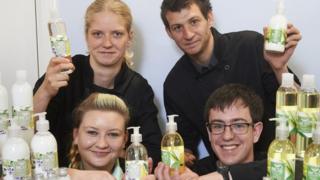 A soap-making venture that went into liquidation last year has been put back into business.
Ness Soaps has been rebuilt with investment from Highlands-based charity, the Calman Trust, and renamed Ness Handmade Toiletries.
The social enterprise in Inverness will provide training to 16 young people each year.
The new-look business will sell two of the products from Ness Soaps' former range of goods.
The products will be sold at Cafe Artysans, another social enterprise in Inverness supported by the Calman Trust.
Ness Handmade Toiletries manager, Scott Murray, said: "As the Ness Handmade Toiletries brand grows again it will provide more and more opportunities for the area's young people.
"They learn all aspects of the business while working here, from administration of orders and customer care, to production and despatch."
Stewart Nicol, chief executive of Inverness Chamber of Commerce, said Ness Soaps was one of the city's best known brands.
Mr Nicol welcomed the return of the business.
He added: "People are becoming more and more conscious of how they spend their money and are pleased to give something back to their local community.
"It's just fantastic that a business which supports young people in our region is back on its feet."
The Calman Trust provides support and training for about 400 young school or home leavers who want to develop skills for living and working.