Princess Anne unveils statue to Skye Terriers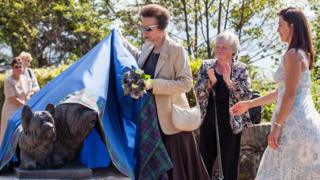 A new life-size bronze statue has been unveiled by Princess Anne on Skye in honour to the island's famous breed of dog.
Installed in the grounds of the Museum of the Isles in the grounds of Armadale Castle, it shows the prick-ear and drop-ear varieties of the Skye Terrier.
The terrier has been described as Britain's most endangered native breed of dog.
Numbers of the breed have been in decline in recent years.
More than 40 dogs and their owners attended the unveiling ceremony.
Jenny Kendrick, chairwoman of the Skye Terrier Club, said: "We are delighted and greatly honoured that the Princess was able to unveil the statue and took so much interest in the breed.
"The Skye Terrier is often called the 'heavenly breed' and they certainly brought heavenly weather with them."
On her visit to the Highlands, Princess Anne also visited a producer of hand-painted ceramics to help mark the company's 40th anniversary.
Highland Stoneware produces the pottery at its workshop in Lochinver in Sutherland.
Princess Anne was given a tour of the site, met employees and also local children.
Following her the visit, staff held an open day to celebrate the anniversary.