Whitby man lands potential record biggest fish on Skye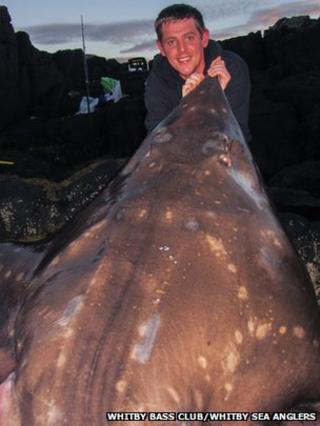 An angler from Whitby has landed what could be the largest fish caught yet off Britain's shores while he was fishing on the Isle of Skye.
Dan Bennett, who was on a trip with Whitby Bass Club, took an hour to land the common skate in Kilmalaug Bay.
The fish was 88.25in (224.15cm) long and 66.75in (169.54cm) wide, with an estimated weight of 208lb (94kg).
Because it was not weighed at the scene it is likely to be listed as an unofficial British record.
The fish was returned to sea alive.
The weight of the skate was calculated from its dimensions by the Shark Trust.
Previously, the largest fish caught from British shores was a 159lb (72kg) skate reeled in on the Isle of Lewis in 1994.
In a statement on the Whitby Sea Anglers website, the bass club said Mr Bennett and his fellow members were local celebrities on Skye.
However, Mr Bennett said his girlfriend, Philippa, was less impressed.
He said: "My partner is not really that interested, but she's proud of me nonetheless.
"I think people outside the angling world find it harder to see how much of a feat this is."
Mr Bennett added: "West Scotland is known for skate fishing but not Skye. We were the first to catch one there for at least 30 or 40 years.
"There was another chap in our group who caught one and it was about 120lb. We thought we'd never find one any bigger - then we did an hour later."
The British Record Fish Committee lists record-breaking fish.
Secretary Nick Simmonds said: "There is not a larger fish recorded as being caught on our current record list.
"Once we receive pictures from Dan we will pass them on to our scientist who will check the images and hopefully confirm the unofficial record.
"It can't be confirmed as a record as it was not weighed at the scene."
Mr Simmonds added: "It will be seriously considered for the Notable Fish List, which was created for situations like this where the fish cannot be weighed.
"This list is historically important, at least in the angling world."