Highland councillor cleared on 'stifling democracy' claim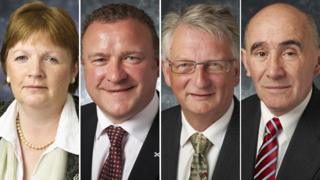 The leader of the Independent Group on Highland Council has been cleared of breaching its code of conduct.
Carolyn Wilson was reported to the Standards Commission after she accused the council of "stifling democracy".
Her criticism followed a bid by independent councillors to cap local authority rent rises at 1% and not raise them by 2% earlier this year.
The ruling administration's Drew Hendry, David Alston and Jimmy Gray had asked Ms Wilson to retract her claim.
They had warned that she would be referred to the Standards Commission for Scotland if she did not do so.
The row broke out following a meeting of the local authority's finance committee.
Independent councillors Laurie Fraser and Donnie Mackay wanted a vote on a proposal to raise rents by 2% and lodged a motion for it to be capped.
However, following legal advice from assistant chief executive Michelle Morris, committee chairman Dave Fallows declared the motion incompetent.
After the meeting, Ms Wilson accused the council of "stifling democracy".
The council's leader Mr Hendry, of the SNP, depute leader and Lib Dem councillor Mr Alston and convener Mr Gray, of Labour, asked her to retract the claim and make a public apology.