Scottish government announces £2.5m for rural broadband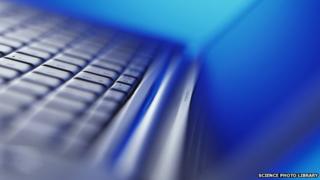 The Scottish government has announced an additional £2.5m in funding to help rural communities make greater use of their internet connections.
The money is going to Community Broadband Scotland (CBS), a programme offering advice, guidance and toolkits to groups.
CBS works with 75 community organisations in Scotland.
Deputy First Minister Nicola Sturgeon made the announcement on a visit to Thurso in Caithness.
The funding takes the amount of money the government has given to CBS to £7.5m.
Fibre broadband
On a visit to Caithness Citizens Advice Bureau's office, Ms Sturgeon said the programme played an important part in "empowering local communities".
"We are making this investment in remote and rural communities across Scotland to enable them to establish their own community broadband networks," she said.
"Improving digital connectivity doesn't just boost economic opportunities, it transforms the way people live, work and learn, particularly in remote and rural Scotland."
The Scottish government and its partners, which include Highlands and Islands Enterprise, are investing £410m in the Digital Scotland Superfast Broadband programme.
This programme aims to give 85% of premises in Scotland access to fibre broadband by the end of 2015.
Postal services
The Scottish government has also pledged to set up a commission aimed at improving connectivity for Scotland's rural communities in the event of a "Yes" vote in September's independence referendum.
The expert body would look at issues such as mobile and broadband coverage, postal services and transport links.
Details were due to be announced in a constitutional paper, Connecting Rural Scotland, at a meeting of the Scottish cabinet in Wick.
Ms Sturgeon said the commission would use powers gained with independence to ensure that Scotland's utilities remain sustainable and that markets operate in the long-term interests of all customers.
But Scottish Labour's infrastructure spokesman, James Kelly, said the Scottish government should be using the powers it already has to improve connectivity and access to services for people in rural communities now, rather than making what he described as "vague promises of new commissions".