Technology 'could aid repopulation' of cleared communities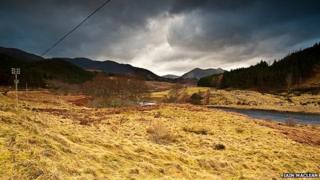 Technology could allow people to re-populate places cleared of communities in the 18th and 19th centuries, historian Prof James Hunter has said.
He argues for the return of people to some glens emptied during the Highland Clearances in an updated version of his book, On the Other Side of Sorrow.
He said advances in computing and telecommunications could allow people to work even in remote areas today.
Prof Hunter is a campaigner on land reform issues.
He is emeritus professor of history at the University of the Highlands and Islands.
In his book, he said: "The Highlands will never again be exactly as they once were. Nor is it necessarily desirable that they should."
But he added that "various modern technologies" provided people in relatively remote areas with commercial and entrepreneurial opportunities previously confined to urban areas.
Prof Hunter said the planting and management of forests in locations where there had been woods many years ago could also help to sustain communities.
But he said many locations in the Highlands and Islands would remain uninhabited in line with the wishes of conservationists and environmentalists, as well as people interested in visiting such areas.
Prof Hunter was a member of the Land Reform Review Group, a body set up by the Scottish government to look at how land ownership laws could be reformed.
After resigning from the group last year, he raised concerns that the work would not lead to radical reforms.
Last month, the Scottish government said that it would bring forward a Land Reform Bill before the end of the current term of the Scottish Parliament.
The government said the bill would ensure land was "used in the public interest".