Tendering for planes for Barra, Tiree and Campbeltown starts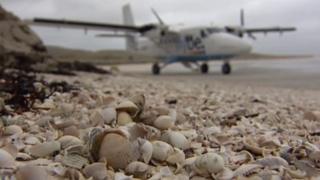 Government plans to buy two new planes to serve the lifeline air service linking Barra, Tiree and Campbeltown with Glasgow have taken a step forward.
Transport Minister Keith Brown has confirmed the start of a six-week tendering process for supply of the aircraft.
The route is officially designated as a public service obligation and would not be commercially viable without support.
The new planes were expected to have been operating by April last year.
However, the process of purchasing them has taken longer than was expected.
The Scottish government announced two years ago that it planned to buy two new replacements for the existing Twin Otter aircraft - owned and operated by Loganair and whose contract to serve the lifeline route ends next year.
The tendering process for the aircraft - which must be twin engine and able to land on Barra's beach runway - will run until 22 August.