BBC's Question Time panel in Inverness 'a UK first'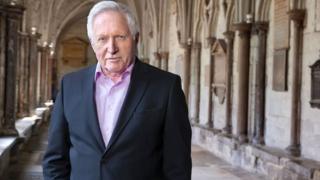 A panel put together for the latest edition of BBC One's Question Time was believed to be the first of its kind in the programme's history.
There were no politicians in the line-up for Thursday night's programme from Inverness.
The programme makers said it was thought to be a first.
On the panel were singer and broadcaster Ricky Ross, journalist Joan Burnie, businessman Alan Savage and former rugby player Scott Hastings.
Question Time presented by David Dimbleby has been shown since the 1970s.
Ahead of Thursday's broadcast a spokeswoman said: "Question Time has featured many panels including leading politicians debating independence, and we decided to try something different tonight.
"The debate is not just between parties but has also involved every section of society in Scotland, and we hope we are reflecting that with tonight's panel.
"This is, to the best of our knowledge, the first such Question Time panel in the UK."