Fire crews tackle blaze near Stornoway's Lews Castle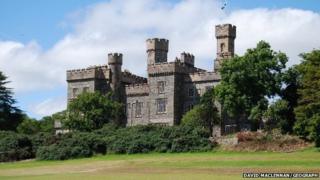 Firefighters have been called to the scene of a wildfire near Lews Castle in Stornoway on Lewis.
The alarm was raised at 12:20 and the blaze was affecting about an acre of woodland.
Two appliances from Stornoway, one from Tarbert and one from Shawbost have been sent to the area.
Firefighters have been tackling the flames using a combination of knapsack sprayers, fire beaters and also four mains water jets.
Incident commander Steve Oliver said: "It's a fairly small area of fire, but it has gone into established woodland so we are fighting it aggressively on two flanks at present to extinguish it as quickly as possible.
"The crews are working on undulating ground, which is difficult, but are doing an excellent job."