Chinese ship in Cromarty Firth for wind farm work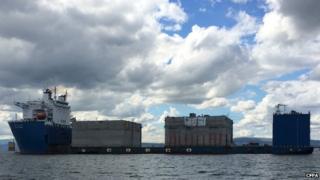 A massive ship has arrived in the Cromarty Firth carrying huge concrete foundations for use in two offshore wind farm projects.
The 640ft (195m) Xia Zhi Yuan 6 is a Chinese heavy lift vessel.
The foundations, or caissons, are for use in the Moray Offshore Wind Farm and Inch Cape project in the outer Firth of Tay.
The Cromarty Firth Port Authority's Invergordon Service Base will provide a hub for work the Moray scheme.
The Moray Offshore Wind Farm involves up to 188 turbines 14 miles (22km) off the Caithness coast and could generate enough electricity for about 700,000 properties.
Along with the Beatrice Offshore Wind Farm, a scheme also planned for the Outer Moray Firth, it was given the go-ahead by the Scottish government in March.
Inch Cape Offshore Limited has proposed to develop a 213-turbine wind farm on a site in the North Sea about nine miles (15km) off the Angus coastline.
The caissons are to be used in the construction of offshore weather stations to help monitor wind conditions at the sites.
The 2012-launched Xia Zhi Yuan 6 arrived in the Cromarty Firth on Wednesday from Cartagena in Spain.