Lifeboat helps fire crews to reach wildfire on Scalpay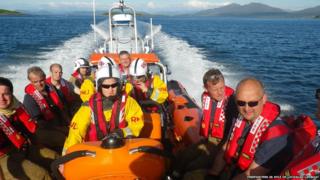 A lifeboat has helped firefighters to reach a wildfire on the island of Scalpay off the coast of Skye.
Kyle of Lochalsh lifeboat was launched at 15:45 on Tuesday to ferry most of the 16 firefighters from Broadford, Kyle and Lochcarron and their equipment to the scene of the blaze.
A boat used by Scalpay's residents to bring guests to the island was also used.
The fire had broken out in the Irishman's Point area of Scalpay.
Once all the firefighters were on Scalpay, the lifeboat was stood down.
The crews used fire beaters and knapsack sprayers to fight the fire and they managed to bring it under control by about 17:47.
Station manager Alistair Jupp said the incident had required a "fair bit" of forward planning.
He said: "We also had to make sure we maintained communication between Scalpay and Skye and that we travelled as light as possible, taking a small portable pump and beaters.
"Scottish Water were very helpful and provided us with water so that we could ensure our crews were hydrated throughout the day. It was particularly warm."
Mr Jupp added: "When we got there the fire was well-developed and was smouldering in the gorse areas. The crews did a fantastic job to contain the fire in one area and after some hard work brought it under control."
The lifeboat was launched again at 18:20 to help get the firefighters off the island and the last transfer was completed by 19:05.