Sea eagle chick rescued after falling from its webcam nest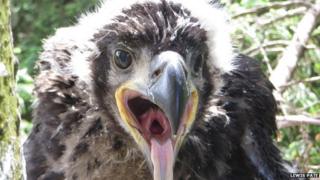 A rescue mission to save a famous BBC sea eagle chick after it fell 30ft from its nest on Mull has been successful.
The eight-week-old chick became a TV star on the BBC Springwatch show and is currently being viewed from around the world on a live webcam.
The eagle was seen at the weekend but by Sunday evening the nest was empty.
Worried bird watchers raised the alarm and two tree climbers from Forestry Commission Scotland later found it in the undergrowth.
After a thorough check, the chick was confirmed to be in a healthy condition.
It was then hoisted back into its tree-top eyrie before its parents returned.
'Badly wrong'
The reason for the chick's fall is still not clear. It may have been flapping its wings for practice and fallen out accidentally.
RSPB Scotland's Dave Sexton said: "Forestry Commission Scotland's webcam helped us to determine that something had gone badly wrong at the nest and we managed to launch the rescue bid.
"The chick was too young to leave the nest with at least another four weeks to go before it can properly fly.
"On the ground they are vulnerable to predators and may not be able to get to food.
"The fact she tried to bite us was, if a little ungrateful, a good sign that she was fit and well."