One hundred days to Royal National Mod in Inverness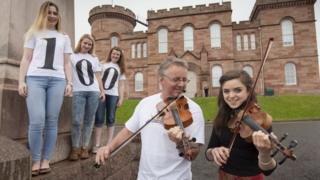 Organisers of Scotland's biggest Gaelic cultural festival are marking 100 days to the start of the event.
The Royal National Mod will be held in Inverness for the first time since 1997.
Organised by An Comunn Gaidhealach, the festival will take place from 10 to 18 October and will include Gaelic songs and drama and also Highland dancing.
There will also be a torchlight procession and music by acts Skipinnish and Gria.
Competitors and spectators are expected from the USA, Australia and Canada.
Alongside the traditional competitions, this year's Mod will feature its biggest fringe event featuring music sessions, poetry and dance.
Twelve pubs, Urquhart Castle, Fort George and Culloden Battlefield's visitor centre will host fringe events.
John Morrison, chief executive of An Comunn Gaidhealach, said: "We are delighted to be returning to Inverness for the first time in 17 years and to be bringing the biggest fringe in the event's history.
"The competition is the heart of the Mod and we have had substantial entries this year.
"The fringe also means we can bring Gaelic culture to a new audience, Gaels and non-Gaels together and celebrate talented musicians from around the world with our exciting programme of events."
Last year's Mod was held in Paisley.