Rescue alert iguana stuck in tree was cuddly toy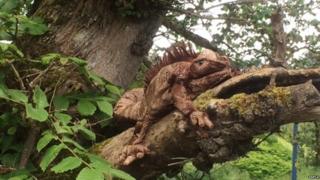 Animal welfare officers were called to rescue a reptile from a tree in Thurso only to find it was a cuddly toy nailed to a branch.
A member of the public spotted what she thought was an iguana near the footbridge close to the town's Miller Academy on Thursday.
SSPCA senior inspector Audrey Gunn said the caller was shocked when she was told that it was a soft toy.
It has been found a new home at a reptile centre in Balmore.
Ms Gunn said: "The lady was shocked when I told her it wasn't a real iguana as she thought she'd seen it blink.
"I think someone must have nailed the toy to the tree as a joke and I can see why it fooled her."
She added: "It was a nice surprise to find there wasn't an animal in danger in this case."