Extra £50m for Dounreay nuclear clean up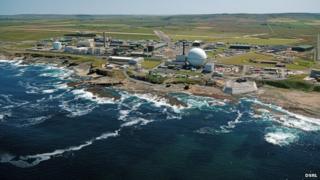 An extra £50m will be made available over the next two years towards the £1.6bn project to clean up and shut down the Dounreay nuclear site.
The UK government has announced the additional funding.
Dounreay near Thurso on the north Caithness coast was the centre of the UK fast breeder reactor research programme from 1954 until 1994.
Work to decommission the complex and demolish almost 200 buildings is to be completed by 2025.
Parts of the 136-acre (55ha) site will be used to store tonnes of low-level radioactive material.
The UK government said funding has been made possible from savings elsewhere in the UK's nuclear estate.
UK Energy Secretary Ed Davey said: "Dounreay has been an important source of jobs and supply chain investment for the Caithness community for nearly 60 years.
"This £1.6bn decommissioning project will return Dounreay to a condition that is safe for future generations while providing value for money for taxpayers."
He added: "This extra £50 million over the next two years will help protect jobs and provide further supply chain opportunities for Caithness."
The first of two massive vaults for storing the material has been completed.
The building and its facilities at the Dounreay nuclear power complex cost about £20m to construct.
Each vault will be able to hold the equivalent of between 370 and 450 double decker buses.
The land where the vaults are located will remain a restricted area for 300 years after that date because of the radioactive material stored inside the facilities.