Talks on Scottish isles' renewable energy grid links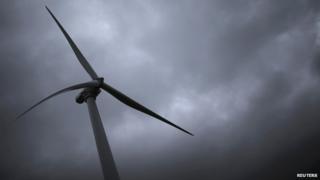 Government ministers and energy industry leaders have been discussing timescales for links between island renewables projects and the mainland.
It has been proposed to connect wind and marine renewable schemes on the Western Isles, Orkney and Shetland with the UK mainland transmission grid.
They include a delay-hit subsea cable from Gravir on Lewis to Ullapool.
The connections were among topics for discussion at the Scottish Island Renewables Delivery Forum in Glasgow.
Scotland's Energy Minister Fergus Ewing and the UK Energy Secretary Ed Davey are the event's joint chairmen.
Mr Davey said the Scottish and UK governments were working together in trying to realise the islands' renewable energy potential.
Ahead of the meeting, Mr Ewing said: "Orkney, Shetland and the Western Isles can make a very substantial and cost-effective contribution to meeting the UK's legally-binding renewable energy targets, and help safeguard our energy security.
"These issues cut to the very heart of the current energy debate and make the case for the development of renewable energy on the Scottish islands so compelling."
He added: "The clear imperative is to put in place an action plan to enable delivery of grid connections and successful renewables projects on the islands - this is the objective of today's meeting."