Inverness man claims new European driving record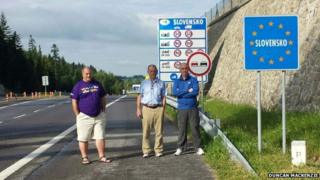 Three men say they have set a new record for driving to as many European nations as possible in under 24 hours.
Duncan Mackenzie, from Inverness, Irishman Gerry Mulligan and Phil Billingham, from Wales, crossed 18 countries in 23 hours 32 minutes.
The previous record was 17 countries in 28 hours.
Guinness World Records does not recognise such driving feats for safety reasons, so the men's time will be confirmed by the Record Setters site.
Driving a hired Vauxhall Insignia, the trio set off from Poland at 08:00 on Sunday and arrived in Maastricht in the Netherlands at 07:32 the following morning.
They took turns behind the wheel about every two hours. The challenge was done to raise money for charity.
A fourth member of the team, Shannon Currie, was a navigator during the venture.
On the way they briefly drove into, or crossed, the Czech Republic, Slovakia, Hungary, Romania, Serbia, Bosnia, Croatia, Slovenia, Italy, Austria, Germany, Lichtenstein, Switzerland, France, Luxemburg and Belgium.
Mr Mackenzie said: "We spent a lot of time preparing the route and finding the quickest way to make the journey.
"To prove we had been to all the countries we had to stop and physically stand in each and take a photo in front of a sign, or place, that showed we were in Bosnia or Switzerland or France."
He added: "We would love to throw down the gauntlet to the Top Gear team to try and beat our time."