Radon tests at Urquhart Castle visitor centre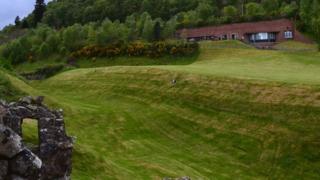 The visitor centre at Urquhart Castle on the shores of Loch Ness is to be monitored for radon gas.
Historic Scotland said the detectors were being installed as a precaution and in response to the results of tests in nearby Drumnadrochit.
High levels of radon gas were detected at the village's Glen Urquhart High School and primary in February.
The levels have since fallen and Highland Council said measures were being taken to reduce them further.
Historic Scotland, which owns the visitor centre and the ruins of Urquhart Castle, said the site was in a low risk area for radon.
Tests will not be done in the castle because the gas only poses a risk in confined spaces. The monitoring will last three months.
Radon is a naturally-occurring gas but, being radioactive, it can cause cancer.
Historic Scotland said: "According to the British Geological Survey radon risk map, Urquhart Castle and visitor centre are not in a high risk area for radon gas.
"As such, a test has not been undertaken before. However, in response to recent reported cases in the area, we have arranged for a test to be undertaken.
"The health and safety of our staff and visitors is of paramount importance and something we aim to preserve at all times."