Police and firefighters probe Dingwall fire-raising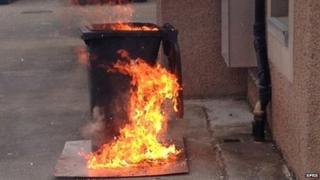 A car and two wheelie bins have been deliberately set on fire in Dingwall.
Police Scotland and the Scottish Fire and Rescue Service have launched a joint investigation into the incidents.
The car was outside the offices of the Ross-shire Journal newspaper in Dochcarty Road. It was reported to be on fire at 03:07.
The bins, which had been set alight and placed near a house in Millbank Road, were found on fire at 03:52. No-one was injured in the incidents.
One of the bins was left near an open window.