Katie Morag to return in new series on CBeebies and CBBC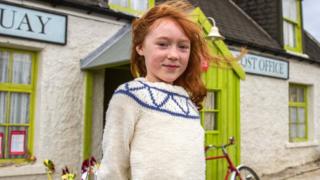 A second series of the children's TV series Katie Morag has been commissioned for CBeebies and CBBC.
It is the first time the two channels have co-commissioned a series.
Adapted from Mairi Hedderwick's books of the same name, 26 episodes of Katie Morag were shown on CBeebies and BBC Alba last year.
The books tell of the adventures of a feisty, independent, red-haired girl who lives with her family on the fictional Scottish island of Struay.
Produced by Scottish independent company Move on Up and supported by BBC Scotland, the series was filmed on Lewis in the Western Isles.
Cherry Campbell from Glasgow will return in the lead role as Katie Morag in the new series, which will also be filmed on Lewis.
Kay Benbow, Controller of CBeebies, said: "I am thrilled that Katie Morag will be returning for series two.
"The first series performed really well on CBeebies, particularly with the older end of our audience."
Cheryl Taylor, Controller of CBBC, said: "This is the first time that CBBC and CBeebies have co-commissioned a series and I am really pleased to be working so closely with CBeebies.
"The exclusive episodes to be shown on CBBC will allow us to develop more multifaceted storylines for the older CBBC audience."
The first series of Katie Morag won the RTS Scotland Children's Award at the inaugural RTS Scotland awards ceremony last week.