Turned off A9 average speed cameras 'slowing drivers'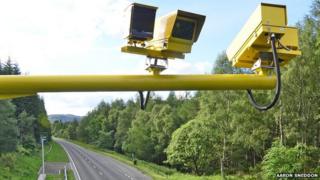 Average speed cameras on the A9 have already affected driver behaviour even though they are not yet switched on, Transport Scotland has said.
The equipment has so far been installed on the road between Perth and Pitlochry. The system will eventually extend to Inverness.
Transport Scotland said where cameras have been erected the number of motorists speeding has fallen.
Costing £2.5m, the project involves installing cameras at 27 sites.
Figures had shown that one in three drivers were exceeding the speed limit on the stretch between Perth and Pitlochry.
But Transport Scotland, which is a member of the A9 Safety Partnership, said this has now fallen to one in 10 drivers following the installation of the average speed cameras in this area.
When the cameras do become operational in October, a trial scheme to allow HGVs to travel at up to 50mph on single carriageway sections of the A9 will also be introduced.
The move to allow lorries to travel faster aims to reduce driver frustration on the route.
'Improve behaviour'
Transport Minister Keith Brown said: "The A9 Safety Group is clear that average speed cameras are effective in saving lives and this is backed up by the facts.
"Before and after studies of other average speed camera sites in the UK show a reduction in accidents.
"On average, they achieved a 61% reduction in fatal and serious accidents. Average speed cameras encourage drivers to improve their behaviour and we are already seeing this on the A9."
Work started last month on installing columns, cameras and infrared lighting masts needed for the new system.
The Scottish government, Transport Scotland and A9 Safety Group have said the cameras will make the road safer.
But the system is opposed by campaign group A9 Average Speed Cameras Are Not the Answer.
It has called for action to tackle bad overtaking.