Inverness man jailed for shotgun murder bid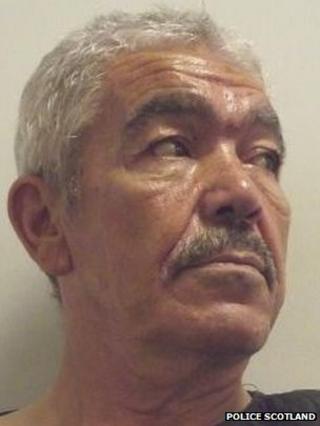 A man found guilty of attempting to murder a neighbour in Inverness has been jailed for eight years.
James Smith, 63, of Inverness, fired a shotgun at a window where one of his neighbours was standing on 22 August.
Armed police responded to the incident in Inverness's Hilton area.
Smith's actions also led to pupils at Cauldeen and Hilton primaries and Inverness Royal Academy being kept indoors for their own safety while police searched for him.
He was jailed at the High Court in Glasgow.
Smith had earlier been found guilty by a jury at the High Court in Edinburgh of attempting to murder a neighbour.
He was also convicted of culpably and recklessly discharging a gun from inside a property in Mackay Road, Inverness.
Sentencing welcomed
Smith was also found guilty of damaging a window and a wall, placing others in a state of fear and alarm and of having a shotgun without a licence.
Police Scotland has welcomed his sentencing.
Ch Supt Julian Innes said: "The incident in Hilton was fast moving with information coming to us from a number of different sources.
"The response from the police was immediate and appropriate in terms of ensuring the safety of individuals and of the wider community.
"We understand that it is always an anxious time for any community when armed officers are deployed so openly in a built-up area.
"The use of armed police officers is not a decision we ever make lightly, but they are a vital response in some incidents to minimise risks to the public."
The senior officer thanked residents of Hilton for their "patience, cooperation and assistance" at the time of the incident.