Comedian Ross Noble gets role in Scots fantasy film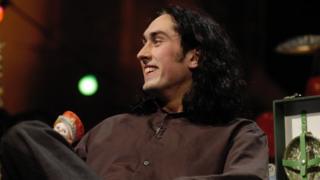 Comedian Ross Noble has been cast in a new fantasy adventure film after visiting the set in Scotland.
The Fairy Flag is based on a legend from the Isle of Skye and is being shot at Balgonie Castle in Glenrothes.
Noble was given a role in the Zoghogg Productions Ltd and RMN Productions' feature after turning up unannounced at the castle.
The film has been inspired by a fairytale attached to the MacLeods of Dunvegan Castle on Skye.
The legend centres around a flag gifted to the clan by a fairy maiden.
Unfurling the Fairy Flag is said to have turned the tide of a battle in the clan's favour.
In reality, the fabric is thought to have been made in the Middle East and to have been a relic of the Crusades.
The new film's director of photography is David Lee, who was a cinematographer on 2012 movie Cloud Atlas starring Tom Hanks and Halle Berry.
Lee was also Ken Loach's assistant behind the camera for five years.